Contractors get a bad name. I say rightly so. Think about your last few interactions with tradespeople. First off, most don't have websites. Do a google search on most local contractors and all that comes up is Manta and White Page listings. Phone numbers are hard to come by. And when you DO find a phone number, no one answers? No Google Maps listing. No social media presence. I don't blame you for your confusion.
You should expect more from your contractors. After all, the money you spend to improve your homes is sometimes equal to the purchase of a new car. The least we can do as contractors is to work diligently to earn your trust.
We recently finished a few large cabinet enameling projects in the surrounding towns of Prior Lake, Edina and New Prague. You welcomed us into your homes for a week at a time to beautify your homes. The enameled finishes were really impressive – all professionally sprayed. You, the clients, are happy. Mission accomplished. But how?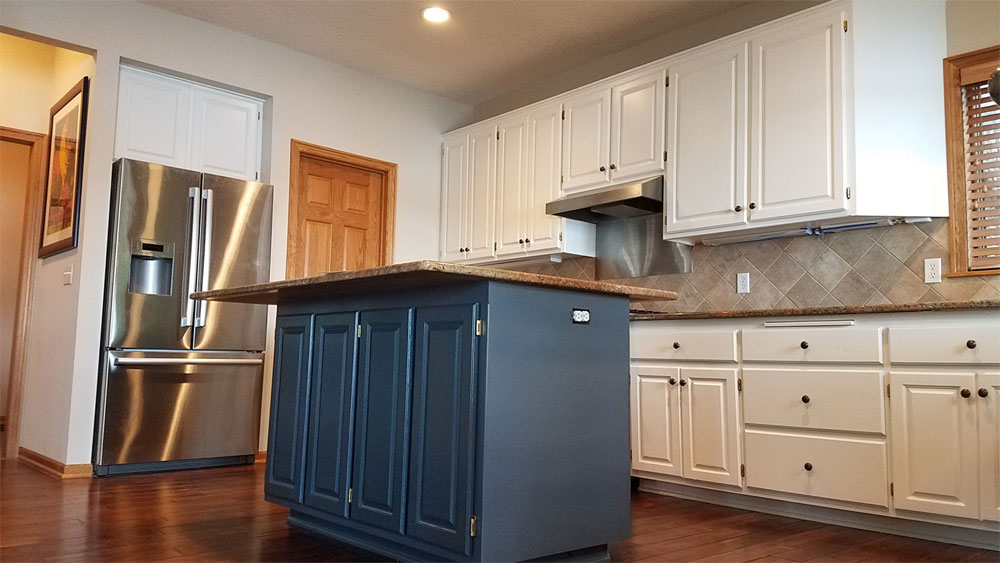 It's all about trust!
I call it the 'Chain of Trust'. It starts with the first contact I have with you and ends with the completion of the paint job. I work hard to gain your trust at each step of the transaction. Consistency is huge: how my company looks and the message my company conveys. Here are the touch points I focus on:
Google Search The first place people go to find a contractor is the internet. They type in 'Wayzata Painter' or 'Shakopee Painter' and see who comes up. Can you find my business easily? Does my business show up on Google Maps? Is my website linked to these listings? I want it to be easy to get ahold of me!
Website You find me through a Google search. You click on m website. Now what? Hopefully the link goes somewhere. Many do not! When my website comes up, my branding, colors, logos and messaging are consistent. I try to make my website intuitive. You can easily find what you're looking for. After reviewing analytics for the last few years on my website I find that people click on 2 things most often: the 'Meet The Proprietor' button and the 'Paint My Trim / Cabinets' button to request a quote. Makes sense. You want to see if I'm a trustworthy person, and you want the interior of your home painted (walls, cabinets, trim, ceilings, etc)!
Social Media Word of mouth and referrals are a major part of my business. But now you, the client, have an amazing tool to vet your contractors: social media! Most clients head over to Facebook and Instagram after a quick look at my website to see if there's more info and some images of my work – you'll find tons! (another trust-building touch point). You can peruse almost a decade of photos, videos and reviews for me and my business. My goal is to gain your trust! We are a real business, rooted in our community doing good work for good people.
First Contact Email, text, phone call. However you contact me, you'll find consistency and urgency. When you decide to do a home project you want to do it NOW! In the age of Amazon 'Buy Now' (1 click and something shows up at your home the same day), you are accustomed to immediate action. You want your estimate so that you can make an educated decision. I can accommodate that! Often w/ instant, virtual estimates through my website www.nickslavik.com. I can also schedule you for an in-home consult – on your schedule.
Estimate I cannot overstate this: consistency, accuracy, simplicity. If you ask me to paint the walls in 4 bedrooms and 2 bathrooms I will give you an itemized estimate for 4 bedrooms and 2 bathrooms! Obvious, but contractors love to complicate this process. You, the client, want info so you can make decisions. One lump sum for these aforementioned rooms is not nearly as helpful as a price for each room. I present an instant paper and electronic estimate in an uncluttered and simple way. For on-site estimates, I walk through the home with you, take notes on my tablet with a digital pen, then go to my Mobile Command Unit (van/office) where I print them out an estimate on real paper, walk it back into the home and present it to you. I hand you a calling card and a magnet for your fridge and I walk you through the estimate and answer all of your questions immediately.
Color Consult One of the biggest stresses for you is color choice. Most contractors hate giving advice on color. I offer formal color consults for every one of my clients. I can call upon 1000's of completed projects for examples of various color schemes or we can schedule a color consult with one of my trusted professional designers. I do not take color choice lightly. Neither do you.
The Job When we do get the cabinet, trim or wall painting job we do many things to maintain your trust. We communicate frequently. My prefered method is email. It keeps a permanent record of our conversations and of your particular wishes for your project. Very useful for delivering what you want. We update the schedule regularly and stay in contact during the project. The Craftsperson actually doing the work hands you a calling card. Clients like to know they can reach out for questions during their home project. You have at least 3 points of contact: myself, my Client Concierge and the Craftsperson on site.
Completion of the Project To ensure that you are as happy as can be, we keep our job sites clean, work efficiently to not disturb your lives, we move furniture and we 'White Glove' clean the areas we work in. You dislike doing all of the prep work for contractors and you particularly dislike cleaning up after them. We invoice you efficiently. All of our invoices match exactly the estimates – price, scope, etc. Contractors are known for 'change orders' and added costs. We DO NOT do this.
Simply put: you want trusted people working in your home. I want to make it easy for you to work with me. The experience is of utmost importance to me. And I've honed this process over the last 2 decades. I want your trust and I'm willing to work for it. Start the process at www.nickslavik.com.