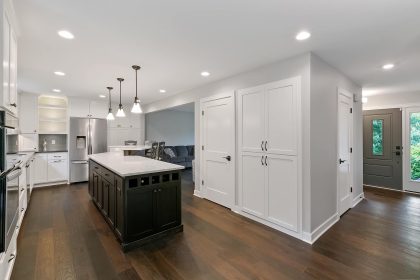 So you want your cabinets and trim painted.  You've seen amazing before and afters on Pinterest – golden oak kitchens turned pristine, bright white.  Doors, baseboards and windows changed from yellowish maple to a soft cream. Its beautiful, no doubt, but whats next?  You call a pro.
The pro shows up and gives you a detailed estimate for your home.  The basic process to paint your woodwork goes like this: prep, prime and paint.  Prices will vary somewhat between contractors as will the processes and coatings.  How do you make your decision? Why do the prices vary?
Here's a quick rundown of then finishing processes you'll likely encounter from various pro's:
Lacquer Primer/Paint: Pro's love it.  And why not? It dries almost instantly when sprayed, meaning you get a whole bunch of coats done in a day.  It feels smooth and looks smooth. Generallyspeaking, this finish costs less than a true enamel finish. Lacquer finishes represent the majority of new construction finishes.  But they have one major fatal flaw: they don't do well with water.  Have you ever seen a white ring from a glass of water on a nightstand?  That's what lacquer does when water contacts it. Have you noticed that the cabinet doors right beneath your kitchen and bathroom sinks tend to lose their finish?  Look dull? That's water damage on a lacquer finish. In a matter of a few years you'll see signs of wear or finish failure with a lacquer finish. In summary: Great for pro's, not so great for clients.
Water-Based Primer/Paint:  The staple of the DIY'er.  I hold no grudges with my non-pro painter brethren.  After all, I'd a DIY'er when it comes to my own home projects.  But when a DIY'er goes to a big box store and tells the paint counter clerk he or she is going to paint their cabinets the clerk will almost certainly hand them a water-based primer and a water-based topcoat.  Likewise with less experienced pro's. The 1st fatal flaw:  Water-based primer and paints do not adhere very well to finished cabinetry and trim.  You can sand, clean, prep and you'll likely still have chipping. If your cabinets have a layer that chips the only way to remedy it is to completely remove the paint.  Nightmare scenario. The 2nd fatal flaw:  water-based primers and paints will likely not stop stain bleeding.  Even new cabinetry can bleed orange colored stains through layers of both primer and finish.    In summary: easy to use, readily available, easy to apply, but may ruin your cabinetry.
Oil Primer & Enamel:  This is my tried and true coating system.  I've been finishing cabinets and trim for more than 25 years.  I've done all the adhesion tests. I've spoken to paint scientists – the chemists who make these coatings.  I've tried every single system on the market. I've found no other primer that adheres as well and stops stain bleeding as well as oil primer.  I've also found no more beautiful, durable finish than Enamel for your cabinetry and trim. What is Enamel? It is a purpose-made coating for cabinetry and trim.  It's reminiscent of the traditional oil enamel that's found on historic homes – smooth, hard, lustrous. It stays wet for a longer time after being applied so that it levels out for an amazing finish.  Its ingredients are higher grade. They take a skilled hand and professional spray equipment to apply, but nothing compares to an enamel finish when done well.. It takes a bit longer than the other finishes to apply, but the results are night and day compared to the other two finishes above.  In summary:  Not many painters do this finish, but if you want the longest lasting, most beautiful finish, this is for you.